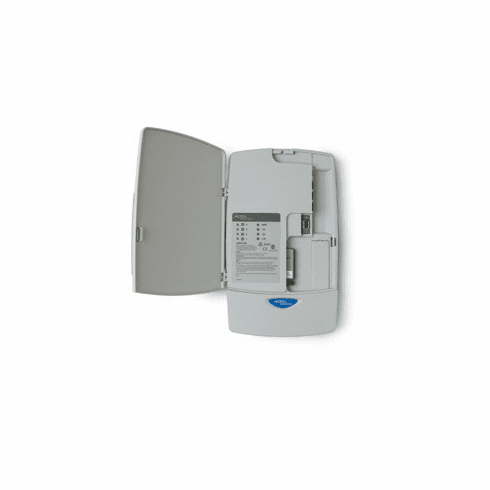 Nortel Norstar Call Pilot 100 Voice Mail 40 Mail Boxes
The Norstar Call Pilot 100 - 4 Ports with 10 hours of recording time. Feature-rich and affordable! Delivering scalable sophisticated messaging options to growing small-and medium-sized businesses, with 10 to 40 users, that require advanced applications.
Advanced integrated applications:

Auto Attendant
Custom Call Routing (CCR)
Voice Mail
Basic Call Center
Web-based management
IP connectivity

Upgraded to 40 mailboxes with a migration path to more sophisticated features
IP enabled with 10/100 Ethernet Ports supporting web-based management
Supported on Norstar Compact and Modular Integrated Communications Systems, as well as all Norstar Telephones and Business Series Terminals
Auto Attendant. Your own personal receptionist, Auto Attendant answers your telephone and takes messages for everyone in your company--with complete accuracy--24 hours a day, 7 days a week. Custom Call Routing cuts down on "telephone tag" by giving your customers and suppliers direct access to the person they want to reach, allowing them to ask a question or leave information anytime. Auto Attendant includes a long list of standard features options including
Call transfer
Calling name display
CCR levels (10)
CCR trees (4)
Dial extension from CCR
External transfer on Centrex
Flexible line rings before answer
Multiple operators
Remotely record greeting
Remotely set business open/closed
Replay based on calling line ID (CLID)
Reports
Transfer to CCR tree
Voice Messaging. From an initial 10 mailboxes to up to 40, Call Pilot 100 is suited for small to medium-sized businesses that can benefit from advanced voice messaging features. Including a long list of standard options, some of the more popular Voice Mail features include:
Auto answer with personal greeting
Broadcast messages
Delivery options (private, urgent, etc.)
Express messaging
Guest mailboxes
Interrupt caller leaving a message
Never-full mailboxes
Outbound transfer from mailbox
Record a call
Recovery of deleted message
Remote call forward to Voice Mail
Reports
Basic Call Center. (Available with purchase of additional key code). For businesses that require a small call center with more sophisticated applications. Basic Call Center activates 10 agents and 2 queues, and is scalable as your business grows. A compatible user interface with Meridian Business Communications Manager, and Norstar platforms protects your training investment for future migration or multi-site companies. Additional features include:
20 configurable agents
5 agent priorities
10 announcements
15 maximum lines
Routing steps - 6-day table, 6-night table
Easy to use System Administration and Maintenance. Complete web-based management with a user-friendly graphical user interface simplifies system administration and maintenance -- all you need is a web browser. An IP-enabled auto-sensing 10/100 Ethernet port makes system administration and management access easier for you or your telco service provider. Plus, all embedded applications are quickly and easily activated with key-codes common to Norstar CallPilot 150, Business Communications Manager, and Meridian CallPilot, making mailbox expansions and applications a snap.
Compatible with Norstar MICS and CICS 4.1 and higher. Not compatible with 3x8, 6x16 and 8x24 systems. One year warranty.